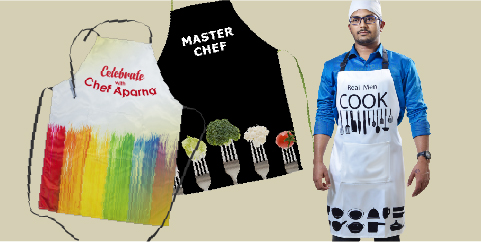 It is believed that people who love to cook have the biggest of hearts. Therapeutic for some but a necessity for most, there are only a handful of ways to make cooking even more fun, and the best way is to buy a customised apron or a chef's cap.
Who wouldn't love to wear personalised aprons and feel like a Michelin Star restaurant chef! Match your chef's cap with the apron, put your signature on it, or simply draw something abstract, as long as you're having fun designing the product, we can make it happen for you.
Aesthetic yet practical, once you buy apron online on rightgifting, you receive a complete package of fun with functionality. So without further delay, let us glimpse at the beautiful, customisable aprons and other kitchen products rightgifting has to offer.
Apron, for the Executive Chef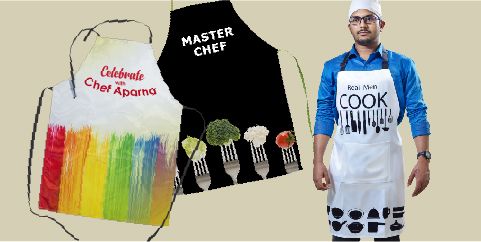 Aprons are often white, bland, and boring but you may have noticed famous TV personalities and chefs wearing colourful or aprons with their names on it. Such personalised aprons are all the fad today and we offer these in two parts.
Choose from our collection of hundreds of beautiful aprons which are offered in a plethora of colours, stunning designs and hilarious sayings or take it a step further by adding your personal touch to it.
Take a simple apron or an already designed one and personalise it. Add your autograph, text, abstract or your photograph on your apron. Yes, you read that right, you may customise your apron with your portrait on it.
As most of these customisation features are free of cost, dabble with rightgifting's robust online customiser until you're satisfied and only then make a purchase. Try personalized aprons for her and thank us later.
Kids Apron, for the Sous Chef in the Making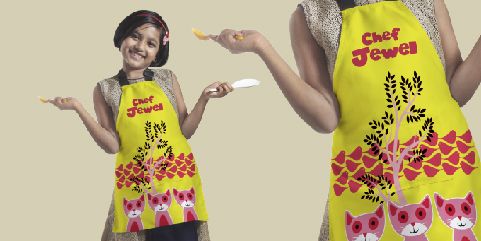 Aprons for kids are hard to come across on the internet. As vast as the ocean of the internet is, we end up tying our adult aprons on kids which envelops them completely and we can change this.
With over three dozen fun, funky, and brilliant designs, leapfrog your little one's ambitions to become a world-renowned chef by customising aprons for them. Add your child's name on the apron and see him/her gush with joy and gear up to give Gordan Ramsay a run for his money.
Waist Apron, to Avoid Stains & Spills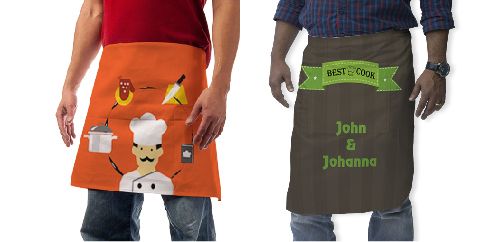 Personalized kitchen apron aside, have you noticed your clothes getting dirty just below the hip during the process of cooking? Busboys and waiters encounter precisely the same issue so they're equipped to remedy it.
Customised Waist aprons are sometimes more useful than traditional aprons and at rightgifting, we take it a step further. Pink, black, red, or beige, you name it and we have the colour of waist apron for you. Hide the stains with a black waist apron or customise a pretty beige one with your photo or sign on it or do both to make it own.
Chef Cap, Where Aspiration Turns into Reality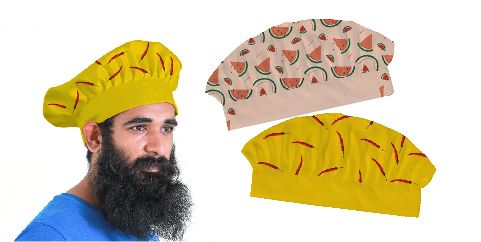 Viewed as vanity more than functionality, a chef's cap or 'toque' is more than necessary kitchen apparel. A chef cap is ideally made to cover the hair, short or long and the pleats on it represent the hundreds of ways a chef must know how to cook an egg.
If you never want to find hair in your kitchen or food again, and look professional while cooking, emboss your name on your chef's cap at rightgifting.
With a variety of colour & design options, rightgifting allows you to purchase personalised chef cap and this could be a brilliant gifting option for that special person who loves to cook.
Table Runner, Drastically Elevate Your Dining Table Aesthetics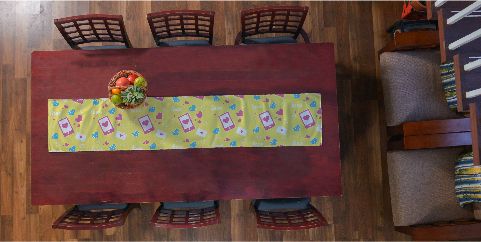 One of the most underrated & underutilized dining accessories, table runners can add tremendous charm to your dining area. Like a waterfall that falls off the cliff, table runners can fall off your dining table's edge and display your name or design when you purchase one on rightgifting.
Yes, rightgifting not only has dozens of stunning personalised table runners but they are completely customisable as well. And if you're a painter or a photographer, feel free to display your proud creation on one of our table runners.
Meal Mat Made for 'U'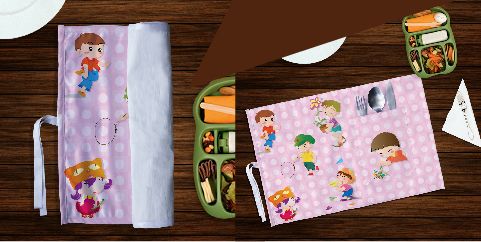 Essential table etiquette, meal mats keep your dining table tidy and if you're looking for a particular colour or pattern, fret not, righting has you covered.
With over twenty designs to choose from, we offer light & bright options in meal mats, and while you're at it, feel free to personalise Meal Mat with your names on it, so that the table manners are kept even more scrupulously.
Conclusion:
From aprons to meal mats, rightgifting enables you to personalise everything at reasonable prices. Purchase a product or two from us and you're sure to be hooked to the new-age fashion of personalising products. A conversation starter to say the least, become your neighbours' envy and flaunt opulence by giving your kitchen apparel a personal touch.