The only time one can witness 'creation' is during childbirth. Inventions are a dime a dozen but when a mother creates her daughter, it is nothing short of a miracle and we're all privileged to be a part of this. If there is one opportunity for us to show love & gratitude to our mothers in the smallest possible way, it is on mother's day and there isn't a better idea than gifting her something personal.
Good mothers day gifts are hard to come by especially if you're looking for something specific from a daughter or a son's perspective. At rightgifting.com, finding a unique mothers day gift is not only easy but is surprisingly personal to your mother as well.
You may easily find mothers day gifts online but none qualify if they're merely expensive or opulent. A mother doesn't use but treasures the gift she receives from her child so even if this is your first mother day gift, rightgifting.com will enable you with the tools to make it one-of-a-kind for her.
So without further ado, let's delve deep into some of the best mothers day gifts 2021 has to offer and shower your mother with the love she deserves.
Mothers Day Gifts from Daughter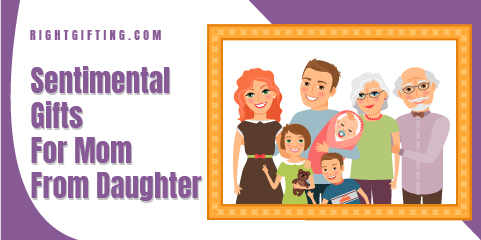 'Firsts' are always treasured. If you're the daughter of the 'force of nature you call mom, some of these 'mother's day gifts from daughter' are found nowhere else in India other than on rightgifting.com.
Stocked with a fully personalisable makeup pouch and a beige make up pouch any mother falls in love with, your creativity to customise these is the only limitation. Wall hangers where you express yourself unlike you have ever before can be a great addition to your mother's room or closet and you get to choose from many colours, templates, designs, or simply create a wall hanger from scratch.
Mothers Day Gifts from Son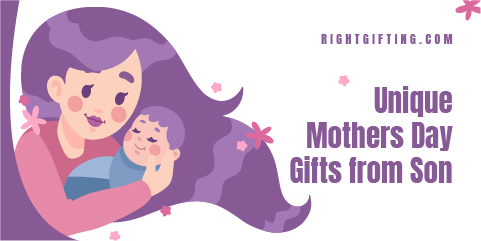 Personalised mothers day gifts from son are rather difficult to collate simply because of the gender difference but it is often believed that the bond between a son and a mother is stronger than that of the daughter, so a son may know what his mother likes, which is surely an advantage.
Taking advantage of this knowledge, a mother's day gift from a son can be something as simple as a poem written just for her on a chic wall hanger or a customised T-shirt with the picture of the whole family. These gifts found on rightgifting.com can also be customised to the tee, so feel free to allow your imagination to run wild whilst looking for thousands of other options on the website. A few other brilliant mother day gifting options found on rightgifting.com are mentioned later in the article as well.
Personalised mothers day gifts from your son can be anything under the sun as long as it makes your mother smile. Illustrated family portraits, bracelets, beauty gift boxes, perfumes, and something as simple as flowers can make your mom's day special. Any mother would love to be pampered, albeit secretly so book a spa day and rejuvenate the senses of the woman who's the reason for your existence.
Top 10 Mothers Day Gifts To Buy Online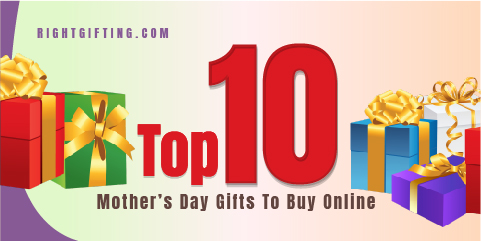 Aprons - A customised apron with your mothers signature or picture makes a great gift.
Cushions - Nothing depicts love for your mother as effortlessly as a customised heart-shaped cushion.
Pouches - A cosmetic or a make-up pouch makes for yet another great gift for mother's day and going the extra mile with subtle customisation is icing on the cake.
Canvas - Customising a canvas with any design, abstract, portrait, and gifting it to your mother is unlike any other mother's present.
Designer Prints - Fabrics like blankets, bedsheets, and others can mean a lot more when they're designer and customised to carry a family portrait.
Care Box - A box that contains everything your mother loves from jewellery to sling bags has the ability to make her day.
Jewellery - Diamonds are a girl's best friend so no doubt that your mom will be teary-eyed if she receives any kind of jewellery, be it a diamond, gold or silver.
Flowers - Most women love flowers so it is the safest, loveliest, budget-friendly way to win your mother's heart.
Clothes - You cannot go wrong gifting a beautiful silk saree to your mother for mother's day.
Plants - A gift of a plant is a gift of life so go ahead, gift your mother her favourite flower plant on this special day.
These were some of the brilliant gifting ideas for your mother on mother's day. Apart from the aforementioned gifting options, rightgifting.com has thousands of other products to offer, and every single item can be personalised. Our website is a playground to let your imagination run wild so bring out the Piccaso in you to paint the perfect mother's day picture for your mom right now.
A first mothers day gift from a daughter can be as creative as a simile as the internet is flooded with options that will leave you spoiled. You could bake a cake, customise jewellery, buy her artsy things like canvases with paint, book her a holiday, or decorate her house with her favourite plants, any of these is better than a novelty present.