We're all aware of the saying "the best things in life are free". As some say the second-best things in life are painfully expensive, I'd like to correct the statement to read "the second-best things in life are personalized"
Money can buy most things but not the expression on his face when you choose a personalized gift for him. A personalized photo frame, T-shirt, blanket or cushion will mean a lot more to a man or a woman who has it all, so express yourself whilst imprinting a lasting impression on your loved one.
Personalised Gifts for Him & Her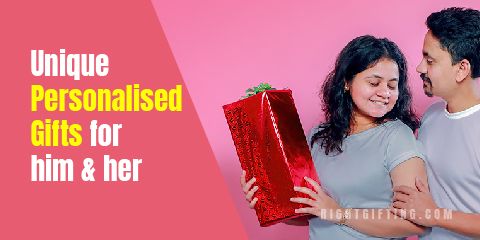 If you've ever tried to choose a gift for a man, you know the pain of it. Men usually have what they need and are content with it, so it's excruciatingly hard to find something they'd love and this is precisely why personalized gifts are the best. Personalised gifts for men may range from hoodies, bandanas, cushions, to curtains, and your own imagination is the absolute limit to what you want these to say. It could be text, abstract, poems, wedding vows, pictures, couple portraits, or anything you can think of, RightGifting has the tools & ways to customise for you.
Apart from these, RightGifting also as drawing bags, scrolls, T-shirts, gadget cushions, and many other options and yes, every single one of these is customisable as well
As far as personalised gifts for women is concerned, you may choose anything from the aforementioned options but RightGifting has plenty more to choose from. Bookmarks, capes, aprons, mugs, sashes, bags, pillow covers, photo blankets and more, women are spoilt for choices and every item mentioned here is customisable from scratch. Create your own design or apply a pre-existing one, RightGifting lets you have a one-of-a-king experience, whilst creating a one-of-a-kind product.
Sling bags, cosmetic pouches, wall hangers, travel pouches, and more, there is no beginning to the end of the product line offered on RightGifting, and most products can bear the photo of your choice on it.
Love Someone? Express it with a Customised Gift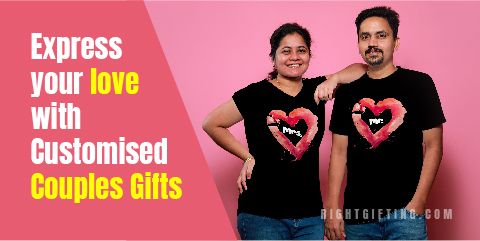 The tingle of dopamine you feel when you love someone can enable you to get creative like never before. With our exhaustive options of personalised gifts for couples, make every gift a memory he will find hard to forget. She may love gadgets, and he may love pets, personalised gifts for couples come in handy for the unusual pair who stand together even when their tastes are worlds apart.
Personalised canvas prints, photo frames, earphone pouches, kindle sleeves, eye masks, and most of all, personalised photos are all the fad lately. A simple question 'what can you personalise with a photo' can be answered in one word; 'anything'. At RightGifting, our powerful tools allow you to easily import the picture of your loved one onto the website and be printed on the gift of your choice.
Don't Just Buy, Create A Birthday Gift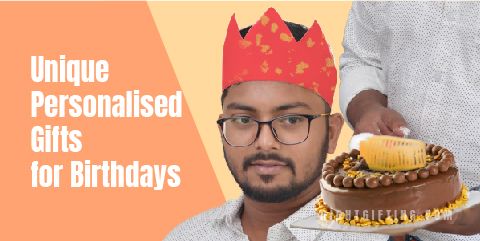 Nothing expresses closeness between two people better than personalised gifts for birthdays. When you have a stockpile of more than 80 products to choose from, every step of the gifting process becomes fun and you will be hard-pressed to gift anything that isn't customised eventually. Heart-shaped pillow covers, party banners, love notes on a scroll and maybe even a customised Game of Thrones-themed wall hanger, make more than just his day with the gift that he/she falls in love with.
Many of the said birthday a template to help you gifts come with navigate easier and most of the items are white, like a canvas. The colour white allows you to visualize what you want to be printed on the cushions, wall hangers, pouches or others, and personalised photos can be printed on to the said products easily using the online tools.
Custom Make a Gift for Your Little One
A fair warning; these gifting options for children could make you fall in love with customised gifting so if you're a new mommy, brace yourself to witness the most adorable & heavenly personalised gifts for kids. Tiny, toddler-sized t-shirts, backpacks, aprons, capes, various shapes of cushions, to name a few, picture your little monster running around the house like Superman or going to school with a bag that has his/her name on it.
The customisation options for children can have immense practical purposes as well. Travel tags, height charts, shoe bags, blankets, meal pads are some of the gifting options that come with practical purposes, and if you're a parent who is concerned about your child losing personal belongings or thefts, you can breathe a sigh of relief hereafter.
A Gift of a Photo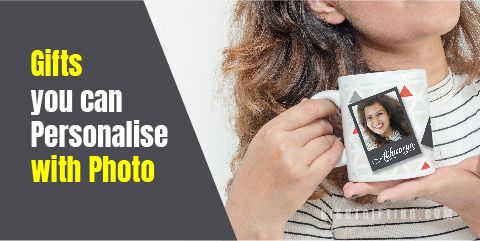 When a photo can indeed speak a thousand words, a customised gift with a photo can speak a million. Collages, portraits, frames, and memories of all kinds can be captured in a photo, and when this is imprinted on a blanket, pillow cover, t-shirt, or cushion, it stays in the warmth of our homes forever.
Be it a personalised gift for kids, couples, birthdays, anniversaries, women or men, RightGifting empowers you with the tools to add photos to any gift. So without much delay, get your feet wet for customised gifting on RightGifting.com as we believe every gift can be personalised, and every gift must be personalised, for there is only one you, in the whole world.