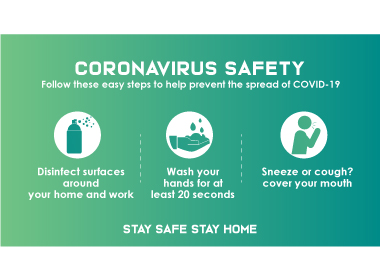 As the entire World is struggling with Corona Virus and fighting against it, and we are having Lockdown in the most parts of the World. It is quite understandable that these are testing times, and everyone is in confusion, anxiety and stress.
So, here are some easy things which you can do to protect yourself from Corona Virus:
-Frequently wash your hands with soap and water or alcohol-based Hand rub.
-Maintain Social Distancing: Maintain at least 1-meter distance from others.
-Avoid touching your Mouth, Nose and Eyes as much as possible.
-Practice Respiratory Hygiene: Make sure that you and people around you maintain proper respiratory hygiene, that means covering your mouth and nose with bent elbow while coughing and sneezing.
-If you have Fever, Cough or problem in Breathing, seek medical care early.
Now it's time to discuss some activities which you can do to keep yourself busy and getting relaxed:
-Try out some creative things like Drawing, Painting etc.
-Spend time with your family. -Try out your Hobbies.
-Note down all your daily tasks and complete it on time if you are doing "Work from Home".
-Listen to your favourite music. -Talk to your friends and family through call or Social Media.
-Do work out whatever possible inside your home.
-And most important thing Respect and support our Doctors, Nurses, Police and people who are working 24/7 to protect us.
What RightGifting is doing to keep you guys involved, relax, entertained and busy?
We are running some of the Interesting and funny challenges in Social Media:
-Blindfold Makeup Challenge: Where Makeup is done Blind Folded and people shared their Photos, Videos of Blind Folded Make Up and tagged @rightgifting. The best one will get a free Personalized T-Shirt* once the Lockdown is over.
-"Drawing Challenge": where people draw some drawing and post in their Social Media platforms and tag @rightgifting.
We will be having more Interesting things to keep you guys entertained and busy during this Lockdown. Keep visit www.rightgifting.com and check our Social Media Platforms.
Follow us on Social Media Platforms:
Some Update:
On 14th April 2020 Lockdown in India has been extended till 3rd May 2020*
Latest Update:
Some of the India States have given some relaxation after 20th April 2020 for some Economic activities* in the areas where Corona cases are not found*.
Also some Indian States have extended the compete Lockdown till 3rd May 2020*
Note:-
The news updates have been sourced from various websites and agencies on the internet publishing news & updates. We do not guarantee the authenticity of the news, we publish them purely from the perspective of our customers staying informed in times like these and are aware of the current scenario prevailing.
So, guys Stay Home, Stay Safe, follow the Lockdown strictly. We will win this battle against Corona.