Why is personalized gift giving so popular?
It's easy to find the perfect gift for someone in a world filled with so many products competing for the title of "best gift". Is that a gift you really feel about the receiver? Does it bring you joy, value and demonstrate how much your love for them? Here's my guess: No. This is not personal.

Personalized gifts are great for everyone
Personalized gifts and services are becoming more popular. It's not surprising that personalized gifts and services are gaining popularity in gift-giving. We all want the best for our loved ones. It's enough to make us happy just to see them smile and express their appreciation for the gift we have given. We have curated the most personalized gifts for every occasion.
The Story of a Lifetime
Gifts speak emotions some times a lifetime story too. Personalised gifts have the power of bringing the memories back and show more attach to the person. Think of a customised gift , which is customised with a photo that is most valuable and memorable for the other person. You just print it on a product , gift to him / her or dad / mother , see their happiness and emotional feeling after seeing the gift. This is lifetime experience and you never get it when buying a luxury gift or a watch, gold.

Personalised gifts create stronger personal relationships
It's more than a gesture of appreciation or a gift. When you give something that is meaningful to someone, it becomes more than merely a token of your appreciation. It becomes a symbol for your special bond and the special relationship you share. It shows you care about their uniqueness, which is what everyone wants in this world: to be loved and accepted for who they truly are. This is not a generic teddy bear that you bought off the shelf. Personalized gifts speak directly to the heart of the receiver. It establishes a relationship, celebrates it and strengthens it over time. It is the ultimate bonding experience.
What You can Do in Rightgifting ?
When you think of personalized goods, your first thought may be of old-fashioned monogrammed bath towels, or novelty items like wedding souvenirs customized with the name of the newly married couple. These may not seem all that effective to you — but stick with us for a moment.

At Rightgifting you can customise any product from the scratch like a white paper. There are endless options for customisation. You may see most of the websites have customisation option, but you can only add Texts or images on a pre-designed design. Literally you have to compromise with their design. Do you think this is actually customisation ??? I know, thats not real customisation means. Here comes, the excellence of Rightgifting.
Customise from the Scratch
You can select any product and choose our White design for the product from the page. Now, customise, in our canvas. You get a lot of options for customisation here.
> Add our pre-defined template
> Add name
> Add Text
> Add Images
> Add Art Works

You can add anything to the design and place anywhere on the product. The complete design, alignments, colours everything you can decide and edit. This is super cool right.
Customise on the Pre-designed Design
At Rightgifting, you can see many pre designed designs of the product. These are the top product designs which users like to buy. Now, you liked a design in our website you want to buy that but only the text colour you want to change… Yes you can do this in our canvas.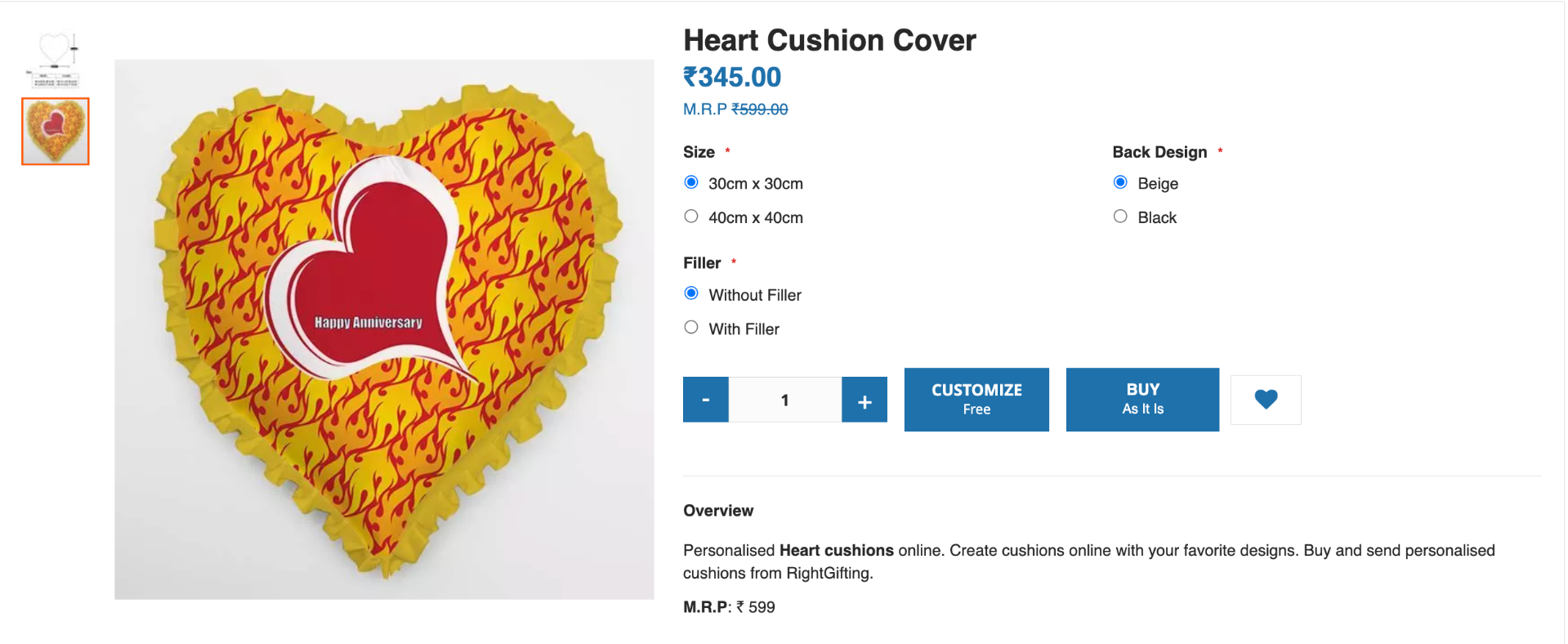 Select your design and click customisation option , you jump into the canvas and edit the text colour into your favourite colour. Yah!! done the major part, now place the order and sit back relax.
Buy As It Is
We always look in to what customers really want. From the customers point of view we have designed the top best product designs in the website. We are sure one of the designs among them is your favourite too… We hope you picked your favourite design now. No more thinking , just click buy as it is and add to the cart. Done!!!!!!!

| | |
| --- | --- |
| Our Categories Of Products | Our Recipients |
| | |
| | |
| | |
| | |
| | |
| | |
| | |
| | |
| | |
| | |
| | |
| | |
| | |
| | |