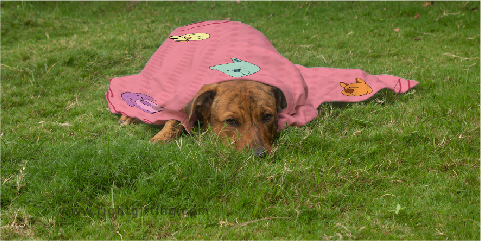 One of the purest forms of love is love for pets. Remember that Danny or Maska may not be able to do much for you, but they always shower unconditional love. As humans, we can return this love in a few forms, and one of them is buying them personalised pet accessories.
Children that never disappoint deserve a treat and what better than a personalised bone or a bandana that makes them happy, as well as us! Picture your pup running around like a little rowdy wearing a neck bandana with his name on it or lying on a big blanket specifically made for him. Tell me, who wouldn't want to live life like this!
Cat owners may rest assured that your Tinkerbell never goes missing as long as he's wearing his tag, so without much wait, let's jump right into falling in love with these products.
Never Lose Your Pet with the Personalised Pet Tags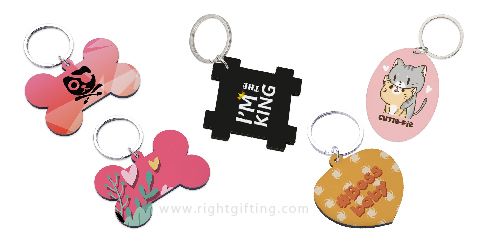 Custom name tags for dogs are the easiest yet clever ways to keep your pooch safe. The same goes for cats that seem to love their freedom more than the warmth of your house, but trust me, they love you more than you love them. Customising dog tags online is easier said than done. At rightgifting, we have dozens of colourful, charming, and attractive pet tags that you can easily personalise by adding names, photos, colours, abstracts or anything under the sun.
Bandanas for the Bandit Who Stole your Heart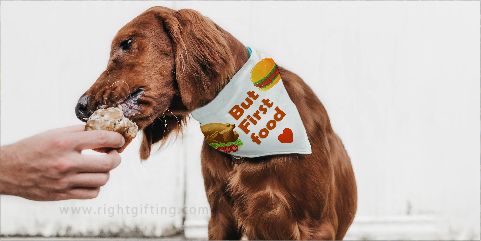 Adding dog name tags on bandanas is all the rage in the western countries. Indians can ride this bandwagon taking it a step further by adding names, logos, or pictures, and simply turning the cloth into a work of art. Not to mention, the bandanas sold on rightgifting are ideal pet accessories specifically made for dogs, and there are dozens of fun colours & patterns to choose from.
Cats Wearing Bandanas - Cutest Thing You'll See Today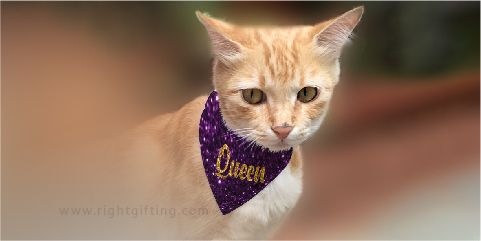 One of the cutest accessories for cats, bandanas are sure to make any cat mom melt like ice. Personify the cuteness of your cat by writing her/his name on it and tying it around the neck, which may also function as a pathfinder in case mittens feels adventurous. It doesn't matter if your cat is warm or vicious, we have a bandana to suit his personality, or simply personalise it to the diva's taste.
Pet Blankets - A Place Where Pets Belong, On the Throne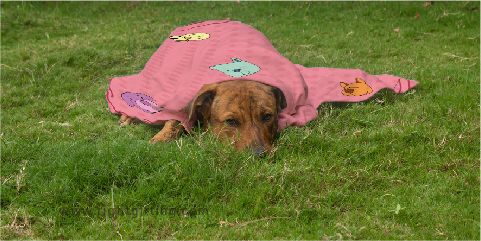 As mentioned earlier, other than occasionally demanding attention, pets shower us with unconditional love and personalising blankets for them is the least we could do. Be it your golden retriever or a kitty cat that decided to call your home hers, blankets can be a specific place your beloved animals can nestle on. If your pet is attracted to a specific colour on the couch or a pattern, customise this blanket to the same so that it becomes easy for them to acclimate gradually.
Bone Shape Pet Toy - Your Dogs Favourite Words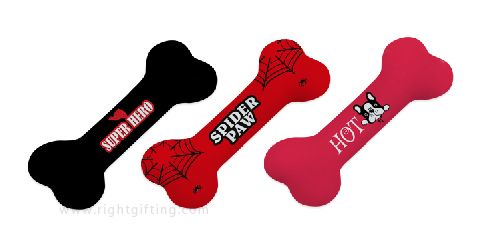 A must-have among puppy accessories, bone-shaped pet toys are a blessing in disguise. Termed as 'teething', all pups gnaw, chew, and bite, so help the poor thing ditch that itch whilst protecting your furniture from becoming collateral damage. Not just for pups but older dogs are also sure to love these bouncy playful toys and you may even personalise these to a great extent.
There is a reason why shelters and dog pounds were found empty in the year 2020. Pets make the best companions because they always have their priorities straight, aren't materialistic, and wholeheartedly trust you to care for them. Reciprocating with nothing but pure love, meme culture says "we don't deserve dogs", which may be true. Let's do everything we can to make a better life for the 'blessings', we call our dogs and cats.